Skills and Drills continue through the end of October.
Fridays, 5pm-7pm, LJSP F1. $10 / kid for drop-ins.
Most successful coaches and athletes understand that the greatest gains in skill and athletic development occur during the off-season. With that in mind, SCLL is providing a fall training opportunity for 2014 league ages 11 and up. One day per week for roughly 8 weeks starting the first week of September, SCLL will be offering a high intensity training session consisting of 2 hours of fundamental skill development. Participants will receive high repetition practice in batting and fielding variations in addition to sport specific movement and conditioning. To prevent overuse injuries, these sessions will minimize throwing and eliminate pitching during this 8-week period. At the training, we will discuss when and how to adequately prepare arms for the spring season. Anyone playing on a SCLL fall ball team can attend these trainings at no additional cost. $50 for all 8 weeks or "drop-in" and pay only $10 per session. For additional information or questions, contact Steve Mukensnabl at steve.mukensnabl@salmoncreeklittleleague.com
Congrats to District 6 Champions!
Junior Division
2014 District 6 Champions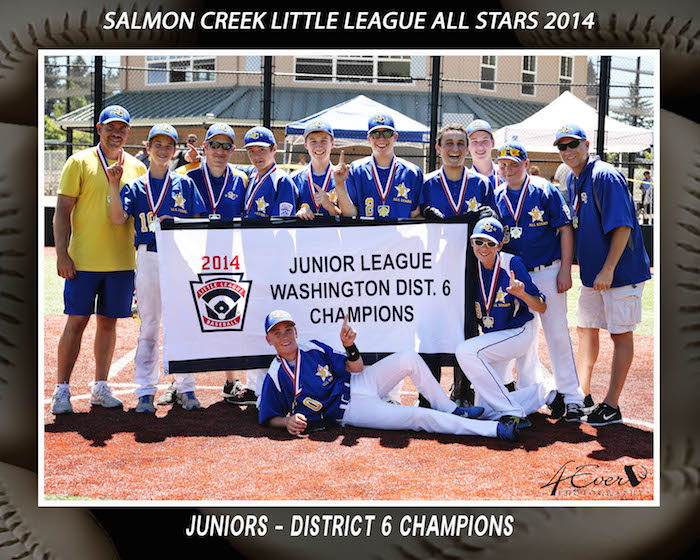 Photo courtesy 4Ever Photography
Little League Division (Majors)
2014 District 6 Champions
Recap of all the All-Stars for 2014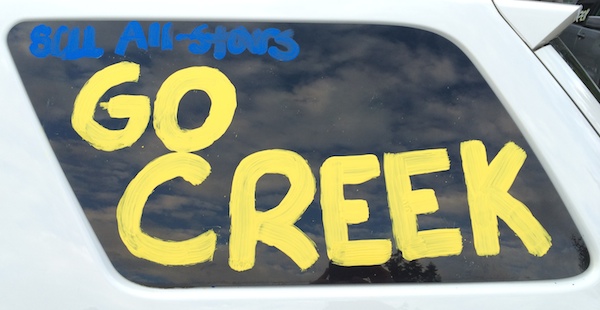 Thank you!
Salmon Creek Little League would like to thank you for a fantastic 2014 season.
We are looking for volunteers for the 2015 season now.
There are no upcoming events.
Equipment Donation Program
If you are like our family each year we do an inventory of baseball clothing and equipment and find a garage full of items that we have outgrown and that are taking up valuable garage space.
Donate your old or unused baseball equipment to Salmon Creek Little League and we will facilitate your generosity to children who do not posses the resources to acquire their own. We are specifically looking for bats, helmets, gloves as well as gently used items of clothing. Please bring your items to opening ceremonies or to any of the upcoming games at Luke Jensen Sports Park and place them in the labeled donation box.
For any items of higher value we will look to resell them and use the proceeds to help fund the scholarship program.
Questions about the program can be directed to the program director, Scott Harris.
2014 Spring Baseball and Softball

Questions about registration?
Send email to the registration team at



Salmon Creek Little League thrives because of our volunteers. Would you like to help make SCLL an even better league in 2014? We are looking for volunteers for the 2014 season and beyond. Contact us today at:President@SalmonCreekLL.com

SCLL GAMES: Rainout updates posted daily at approximately 4pm. If there is no update, games are scheduled as planned.

HAZEL DELL GAMES: All inter-league games played at Hazel Dell are game time decisions. Rain updates posted here do not apply to Hazel Dell games.

RIDGEFIELD GAMES: Rain information for Ridgefield inter-league games updated on their hotline at 4pm each day: (360) 887-8964.